Pharma Franchise for Anticoagulant Medicines Range & Drugs – Looking for genuine deals of pharma franchise for blood thinners in India? Arlak Biotech is amongst the top 10 PCD companies in India for anticoagulant medicines. We are proficient in delivering a quality range of anticoagulant pharmaceuticals formulations. The medicines are made from the best quality ingredients. The company is certified with various certifications like GMP, WHO, ISO etc,
Arlak Biotech offers some of the widest range of anticoagulant medicines for pharma franchise in India. Our company has nine dedicated divisions. They all work together to provide you best quality drugs. We assure to provide the best growth plans to our clients of the franchise business. We engaged in formulating and manufacturing a wide range of anticoagulant medicines. The positive growth in demand for blood thinners can help you have a flourishing business. You can start or expand your business line by being of the anticoagulant medicines franchise owner in any part of India.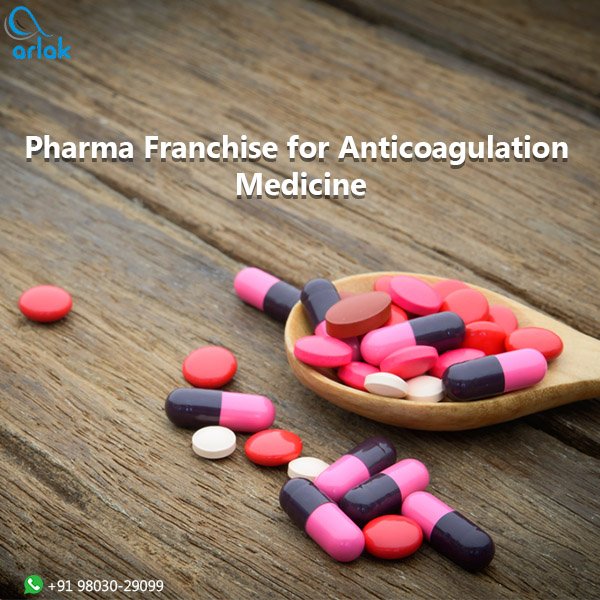 We invite all suppliers, distributors, agents, wholesalers, and retailers, etc to be a part of PCD pharma franchise for anticoagulant medicines. Arlak Biotech is offering exclusive rights, quality anticoagulant range, promotional support, regular updates, etc. You can call us or drop a message to know more about our franchise business in any location within India. We assure you the best experience with us.
What are Anticoagulant Drugs? How Are They Different From Anti-platelet Drugs?
Anticoagulants are blood thinners. They are a drug class of antithrombotic drugs. They are primarily used to reduce the chances of blood clotting by reducing fibrin formation. These drugs act on to prevent the blood to form clots. They work on reversing the cascading effects of blood solidifying or semi solidifying.
Anti-platelets are similar to anticoagulant. They both are a class of anti-thrombotic drugs. Anti-platelets work on limiting the aggregation of platelets. They are the first step to prevent the chances of thrombi or blood clots. Once the blood starts to clot, anticoagulant drugs are given to reduce the effect and ability of blood to further form thrombi within the body. The drugs are majorly used all over India for surgery, treatment and therapy purposes. They have good demand for PAN India.
Customized Range of Anti-coagulant Drugs/ Medicines Available For Franchise At Arlak Biotech
Arlak Biotech is an award-winning company for best PCD Company in India. Our company has nine dedicated divisions. They are dedicated to better drug formulation covering different aspects of the healthcare system. We have three divisions dedicated to better business opportunities and growth for our clients.
Anticoagulant drugs are one of the widest ranges with us. We specialize in a wide range of blood thinners made using the best quality ingredients. The range of blood thinner includes tablets, capsules, injectables, pills, syrups etc. They are approved by DCGI. We have assured that you get the best quality medicine in the market.
What Are The Benefits Of Choosing Arlak Biotech for PCD/ Franchise Pharma in India?
Pharma franchise in anticoagulant medicine is the best business to start in India. Arlak Biotech offers genuine pharmaceuticals franchise business opportunities in India with low investment. Our anticoagulant PCD franchise dealership opportunity in India is affordable. You get to enjoy a vast range of anticoagulant medicines. They are made using the best quality extracts and drugs. We always make sure that you get the best franchise in the market. Here are the benefits of being our client:
PCD/ Franchise in anticoagulant medicines is the best small scale business ideas in India, it offers less risk, low investment and loads of profits for you.
Our company has the best state of art infrastructure facilities. They are certified with GMP and WHO. The units are made according to Schedule M in hygienic conditions.
Our anticoagulant range is genuine and affordable. This is because our company units are set up in taxation free zones which enjoy excise duty concessions.
Winner of best PCD Company in India! We are a leading name when it comes to pharma marketing services. We have more than 500+ happy clients working with us.
Contact Information
Name Arlak Biotech Pvt. Ltd.
Contact Address: SCO 5-6, Wadhwa Nagar, Near Hotel Sunpark
Kalka Highway, Zirakpur, Punjab India – 140603
Email Address: info@arlakbiotech.com
Contact Number: +91-9888885355, 9803023099
Toll-Free Number: 1800-121-6263