How to start Pharma Franchise Company – Do you want to start your own Pharmaceuticals business? Want to have a stable future in pharma domain? The pharmaceuticals domain is one of the best-known industries which are known for its growth opportunities and profit-earning power.  The industry saw a good growth over the past few since the demonetization period. Want to know how to start Pharma Franchise Company? We will guide you!
As the name says, Pharma franchise offers franchise to people or entrepreneurs who are looking for a business deal for various medicines, drugs, and medical products. The platform can be started on a small scale and steadily be expanded with time and opportunities. How to start Pharma Franchise Company? Arlak Biotech explains it all to you.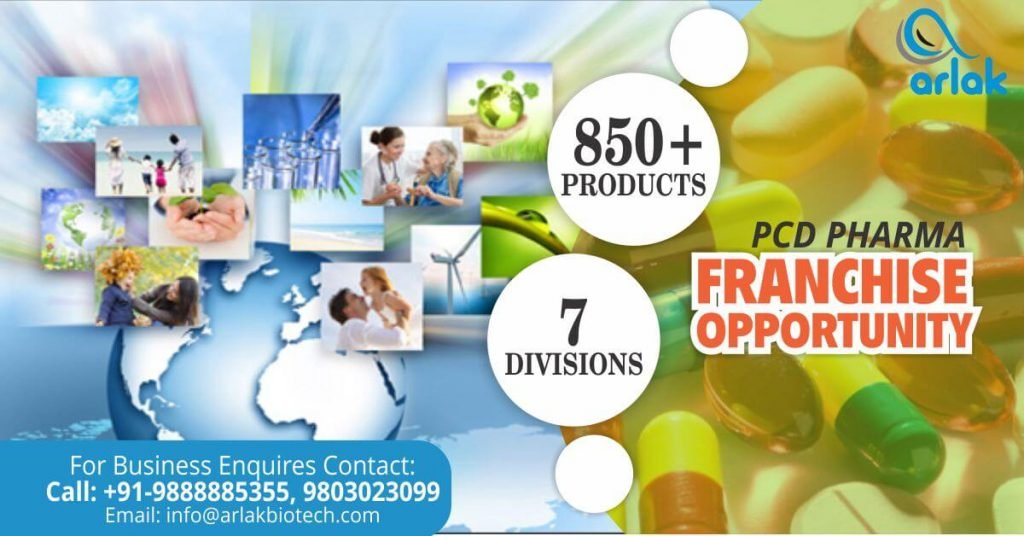 Things To Remember Before You Start Your Own Franchise Venture
Having a business is a beautiful feeling but if you are thinking of opening it on a platform as a company, and then be wise enough. Making a mind is good but don't go wastefully on hard work. There are some things you should remember when you start your own pharma franchise company in any part of India:
Experience in the pharma industry is an important factor for a successful company venture.
A sole proprietorship is a good idea but being in partnership also has its own benefits when it comes to investment and division of work. Choose members who are specifically good in their fields like one in marketing, one in organizing, one in handling staffs etc.
Consider the market situation and economic condition. The current GST (Goods & Sales Tax Bill 2017 has affected the pharma industry too. Know more about its impact.
Known your area of interest and specialization. A pharma company can be of different kinds which will be displayed below.
The financial position of yourself and your fellow partners (if) is an important aspect which is many time ignored. A good investment requirement may be needed to face which should be prepared in advanced or have plans for times in crises.
Tips For Starting Your Own Pharma Franchise Company
Now that you have made up your mind of starting a pharma franchise company venture, here is the list of things you need to do:
Collect your own sources whether it is online or offline. The better you research will be, the better will the results.
Owing a manufacturing unit is not compulsory for startups. You just need to have your list of own branded pharma drugs, medicines or products ready when you make up your mind to start a company.
Choose a good pharma manufacturing company with genuine production rates and quick delivery benefits.
Know the available resources around you. It will help you choose the type of pharma franchise you should go for or deal in.
 Think monopoly, Think Demand is all you need to know! If a certain product/ drug has good demand irrespective of areas far from you, go for it! Knowing your customers need is very crucial as in the end they will be buying it from you.
Choose The Pharma Company You Want To Start
A company in pharmaceuticals can specialize in multiple or start with a single specialization area. This is a gradual process which will be achieved with time. Here is a list of Pharma Franchise Company which you can choose to embrace:
Cosmetic Manufacturing Company
Food and Dietary Supplement (Nutraceutical) Marketing Company
Pharma PCD/ Pharma Marketing Company
Food and Dietary Supplement (Nutraceutical) Manufacturing Company
Pharmaceutical Marketing/ Trading Company (Branded/ethical marketing, generic marketing, PCD/Franchise distributions, export or institutional sales fall under this category)
Pharmaceuticals Marketing Company (Loan License Manufacturing, Third Party Manufacturing or Direct Marketing includes here)
Much more
Study more about the franchise companies which can avail by you.
Certificates Needed To Own By Your Before Registering Yourself As a Company
The following are the certificates which will need by your in order to have register as a company:
Accountant Salary or auditor (If)
Drug License Number: Estimated Expense – Rs5000
Electricity Bills
Employers Salary and Workers Wages
Expenses of Doctors.
Expenses of Medical Representatives or Stockiest (If)
Food Safety & Standard Authority of India (FSSAI): Rs 100 annually for Re-registration.
Marketing and Promotional Expenses
Private Limited Company Registration: Estimated Expense – Rs8000 to Rs9000.
Rent of the premises and warehousing if hired.
Tax Identification Number (TIN): Estimated Expense –
Third Party Manufacturing: Minimum Rs25,000 needed to be submitted.
Trade Mark per product or name: Estimated Expense – Rs4500 (government fees + advocate fees respectively)
*Important Thing To Remember!
Being a company format, you need to be registered with the Registrar of Company to be lawfully called as a legal entity or company. Do not forget the Memorandum of Association (MoA) and Articles of Association (AoA). These documents play an important part for your company.
Conclusion:
Research and observation are the best things when you start a venture. Arlak Biotech is the best-known pharma manufacturing company in India. We offer genuine prices for bulk and prescribed manufacturing orders. To know more contact us now.