PCD Pharma Franchise in Tamil Nadu – Arlak Biotech is the Supreme name in the pharma industry having its presence all over India and we are the best PCD Pharma Franchise in Tamil Nadu. Being a leading pharma company in India we are providing quality products of medical care to a huge number of customers. Arlak Biotech is the best to name when it comes to PCD Pharma Franchise in India, We are having more than 500 associates in the country and the numbers are increasing. The main aim of our firm is to set high standards in the pharma industry and improve the health of people and we are achieving these two things by delivering best-in-class pharma products and medicines..
We are WHO-ISO certified PCD pharma marketing company and a proud winner of best PCD Pharma Franchise in India in 2015. We believe in full filling the social responsibility first our products are accurate in compositions, best in quality and are highly pure. We are having a good distribution network all over India so that our associates could get the fastest delivery of their products. Hence, we are the best PCD Pharma Franchise Company in Tamil Nadu.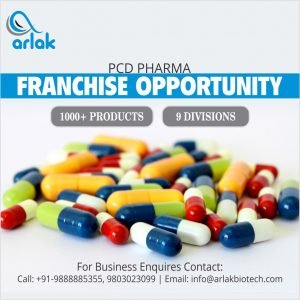 Arlak Biotech is now providing the people of Tamil Nadu a great business opportunity by offering its PCD Pharma Franchise in Tamil Nadu. PCD Pharma Franchise is very popular these days and having good scope in India because it is an emerging stage Moreover the need for good pharma products is also high so if you go for the best PCD pharma franchise company you could have a great career in the Pharma industry.
For more information regarding our firm, its products, and franchise services, contact us. Give us a call at +91-9803023099, 7696263636.
Best Pharma Company ' Arlak Biotech' offering

PCD Pharma Franchise in Tamil Nadu
Arlak Biotech aims to become the top pharmaceutical company globally we are working for it with all our efforts. We are a Chandigarh based company offering more than 1000 product. Our formulation is best in quality and when it comes to effectiveness no one could beat us because we are having a team of experts who come up with new and innovative ideas to make a more effective product to improve the health of the patient.
Arlak Biotech is now in Tamil Nadu offering people the best business opportunity in Pharma Industry by offering its PCD Pharma Franchise. We will be providing it in all the districts of the state. You can be a part of an award-winning Pharma Franchise in India then call now. Small to medium scale pharma businesses can apply for growth opportunities in the future.
Scope of PCD Franchise in Tamil Nadu
Tamil Nadu is having very good medical facilities the capital city of Chennai is having many hospitals and there are many other good hospitals in every district as well. The government of Tamil Nadu is investing well in the Healthcare sector. With the rise in the income of the middle class, their lifestyle has been changed now people do not stop themselves from spending on health, medicine.
So investing in this sector is a good thing to do because it will provide you with a good return and have a good future. The increasing consciousness of good health and healthcare is an example of the potential of the health sector. But keep in mind invest in the best pharma company, Arlak Biotech will be looking forward to hearing from you.
Wide Range of Pharma Product at Arlak Biotech
Arlak Biotech provides a wide range of formulations. We supply more than 1000 products. Our brand very popular in the market and has good demand. They are affordable and made of the best quality. All the medicines and products are certified by the Food And Drug Administration as well as certified by FSSAI. All our products are certified by FSSAI, FDA & DCGI association which speaks about our quality. These are the category of our products:
Tablets
Capsules
soft gelatine capsule
syrups
Injectables
Soap
lotion
Powder
Sachets
Pre-filled Syringes and many others.
Why choose us for PCD Pharma Franchise?
Arlak Biotech is well named in the pharma industry and trusted by the people, it took the hard work of our team and their innovative ideas that made us reach this position. We believe in transparency in work. We want that everyone should get the best treatment, therefore, our medicines are highly affordable. The quality of the products is our priority. We provide high-grade and highly effective Pharma products to our clients.
Want to know what makes a company different from others? What makes us so special? Following are some other reason which makes us proud:
Arlak Biotech is ISO 9001:2008 Certified company
Productions of Arlak Biotech take place in GMP Certified units.
Company Provides promotional kits which include following products Sample, Visual Aids, LBL, Reminder cards, Visiting card, Order books, MR bags, ASM Bags, Pads, Gift articles for better penetration in the market.
Handsome incentives will be provided on the completion of the annual target.
Monthly Promotional Schemes.
The order will deliver a timely within 1-2 days.
Every month Gift for Doctors.
Manufacturing takes place in an excise free zone.
We are the winner of best PCD Pharma Franchise in India
PCD Pharma Franchise Opportunity by Arlak Biotech
We are looking for experienced and dynamic people from all the regions of Tamil Nadu to be our PCD Pharma Franchise associate. Pharma Dealers, pharma distributors, medical representatives, and pharma agents' are invited to the part of this leading pharma company. Join the success road with the best pharma franchise company by your side. Arlak Biotech is the winner of the Franchise Award of the Year 2015. You can fully trust the professional work that we are providing to every single member with dedication. Don't think! Just contact us now and get to be associated with the best.
Contact Information
Name: Arlak Biotech Pvt.Ltd.
Phone Number: +91-9803023099, 7696263636
Address: SCO 5-6, Wadhawa Nagar, Near Hotel Sunpark Kalka Highway, Zirakpur, Punjab India – 140603