There are two ways to start a Franchise business in Pharmaceutical Industries, and both these mode of a franchise are almost similar but still different from each other in some matrices like Size and Cost.
Arlak Biotech is an award-winning PCD pharma franchise in Punjab, India and follows the same criteria to spread their business all over India. Hence, today Arlak Biotech conferred as the best quality provider company in India. If you want to be a part of our family or thinking of starting a career as a Pharma Distributor then you can reach us at info@arlakbiotech.com
Both these model follow the same business criteria:
• In case of marketing their products to the reseller, these franchises have to get authorities from the Pharmaceutical Industries.
• Get all their Monopoly Rights, so that they can enjoy the liberty of business deals and benefits.
• Collect all their promotional tools, such as bags, a notepad to maintain the growth of the business.
You see, the criteria of their business model are the same, but still, they are different from each other in some aspects. Let us take a deep dive into it to understand their key differences.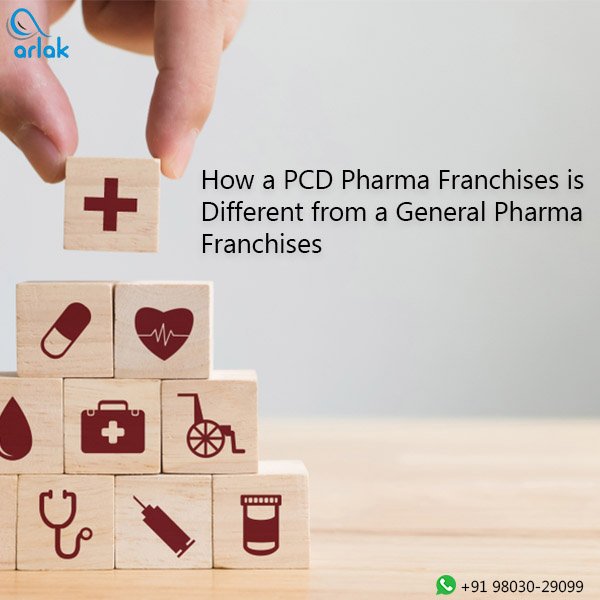 Actual Difference of PCD Pharma Franchise and General Pharma Franchise
As you want to start your career with pharma industries in India, you must have basic knowledge of terms General Pharma Franchise and PCD Pharma Franchise. And then choose which one of these you want to explore. Be smart entrant. Search for every pros and con. Then go with the best choice available.
AREA OF SALES
This is a key difference between these two, and actually, the size of sale decides the size of your business. In short: the larger the sales regions, the bigger the business size. And General Pharma Franchise is larger in size as compare to PCD Pharma Franchise or we can consider PCD Pharma Franchise as a smaller version of General Pharma Franchise. Hence, you can conclude from this difference that PCD Pharma needs less experience to start a franchise.

Also, PCD Pharma has a small sales target as compared to the latter. Therefore, you can complete your targets on time and can reach success at an early stage.
INVESTMENT
As the size is small in the case of PCD Pharma, that means you need less investment to start a business in it.
You see, Less Invest leads to lesser risk. Also if we have a look at Return of Investment then as soon as you complete your targets, you will get a bigger ROI on sales.
So being a starter, it is safe to invest in a small scale business. As chances of failure are lower and you can easily arrange a small amount to invest in this business.
EXPERIENCE
As we have told you in starting that size of sale and investment is small, therefore, you do not need any professional certificate to handle small scale business. All you need to start a PCD Pharma Franchise is some networking skills and a good consistency to maintain that network.
Whereas to start a General Pharma Franchise you need big networks and at least 10 years experience so that you can handle the big losses.
PRODUCT CATALOG
Product Catalogue is maintaining a proper list of available products in your stocks. For which you need big software and large workforce that means you need a lot of money to an investment.
And if you failed to maintain the accurate list alone then you can be considered as a fraud distributor. And sometimes during the case of General Pharma Franchise, entrepreneurs are not able to keep track of billions of products. Hence, without any intentions of fooling their customers, they still pursue a bad reputation.

So if you are an entrant, and you don't want the mess in the starting, we advise you to choose PCD Pharma Franchise to start your safe career.
DISTRIBUTION CONTACTS OR CHANNELS
In PCD Pharma Franchise, all you need is a good relationship with your retailers, chemist, and doctors. And this is too easy to maintain if you have good networking skills and high passion for success.
Whereas for general pharma franchise you need a strong team and tricks to create a big network.
CONCLUSION
As we can easily conclude from the above descriptions that the key difference between PCD Pharma Franchise and General Pharma Franchise are Cost and Size.
Where we can clearly see, as a starter, it is safer to invest in PCD Franchises as they demand less invest but promise higher ROI.
START A PCD FRANCHISE WITH ARLAK BIOTECH
Arlak Biotech is a leading PCD Pharma Franchise with 9 divisions under it. Also, we are ISO 9001:2008 certified and provide access to more than 1000+ products in the market. And we not only provide on-time delivery of products but also maintain our quality delivery services. And we are conferred as the best quality provider franchise.
You can contact us 24*7 at info@arlakbiotech.com