Pharma Franchise for Nutraceutical Medicines – Arlak Biotech is a prominent Pharma Company in India. We are one of the best PCD Companies in India. Our company is an ISO 9001:2008 certified company. We are a popular manufacturer and markers of nutraceuticals drugs. Our business opportunities have expanded. You can be our clients through genuine deals of PCD pharma franchise for nutraceutical medicines, products, Drugs & Range.  
The demand of quality nutraceuticals medicines has increased over time. The dependency of the population on supplements has risen with time. Arlak Biotech has the best collection of nutraceuticals drugs. We have 500+ people working in collaboration with us as franchise owners. You can also join us by being our associate through pharma franchise for nutraceutical medicines, products, Drugs & Range in India. Our business opportunity can be available by anyone in any state of India at genuine rates.
You can call us or simple text us through the contact form or email us your queries. We will shortly contact you! Our company assures you good response and experience with us.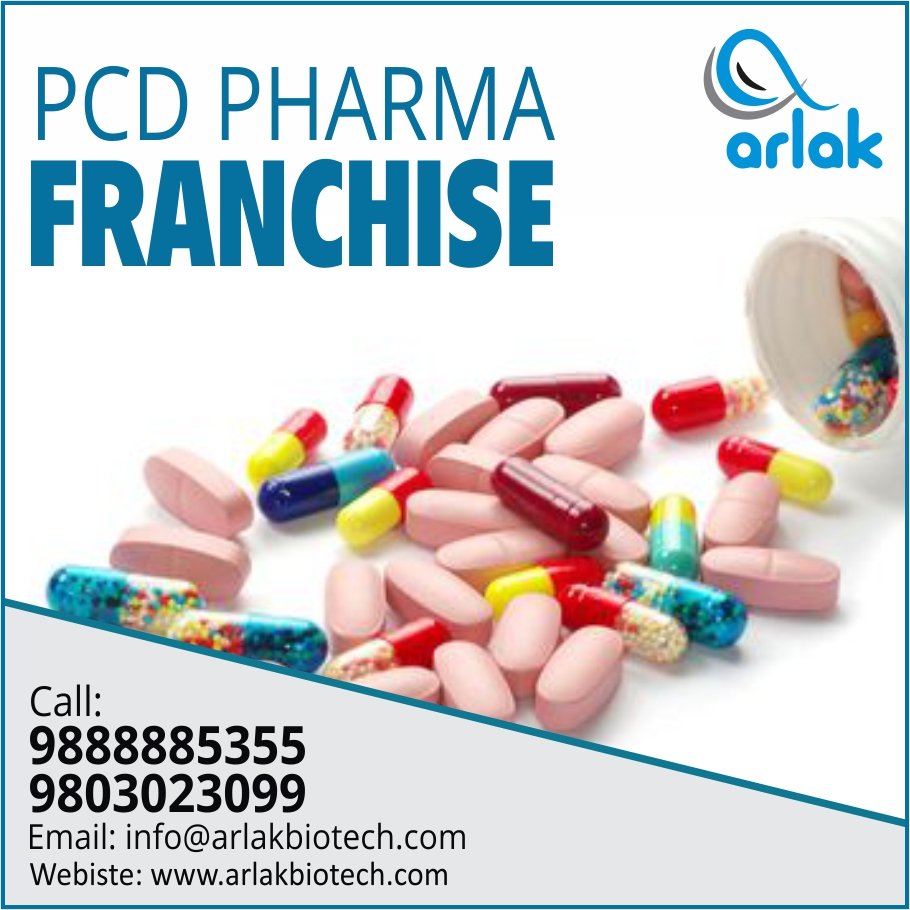 Leading Pharma Franchise Company For Nutraceuticals Medicines in India – Arlak Biotech
Arlak Biotech is a PCD Company of the year winner. Our company is an ISO certified Franchise company situated in Punjab. We are headed by a skilled team of experts. They have helped us achieve some of the widest lists of nutraceuticals medicines. The medicines have been made using the best quality standards. Here are the features of our company:
The manufacturing of neutraceuticals drugs takes place in GMP and WHO certified units.
The highest quality control standard is followed by us. The environment is hygienic and clean of the manufacturing units. The medicines are free from all kinds of contamination.
Raw materials are pure and effective in giving results. The nutraceuticals extracts have been derived from organic farms.
Latest machines and equipment have been deployed in the making of each nutraceuticals drug making.
Scenario of Nutraceutical Drug Market in India
Nutraceuticals medicines are dietary supplements with natural food extracts. The market of nutraceuticals drugs is increasing rapidly. The population is getting health conscious. There has been an anonymous growth of demand for multivitamin and dietary supplements. The urban regions of India have a higher demand for nutraceuticals medicines.
The nutraceuticals drug market is growing at a speed of compound rate of 1.45%. The sportsmen have been one of the biggest consumers of nutraceuticals medicines. The trend has been popular among the working classes. It is expected to grow more with greater demand for wellness medicines.
What are The Benefits Of Starting Pharma franchises For Nutraceutical Drugs in India?
The nutraceuticals drug market is the best place to have your own business. The market offers a wide range of medicines. Being a franchise owner of nutraceuticals medicines is profitable. 67 percent of the urban population and 33 percent of the rural population are covered as consumers. You can get a great deal out of the great demand. PCD franchise lets you own an exclusive business. You can be your own business and work on genuine sales target. Our company will support you in every step.
Quality Nutraceuticals Medicines Are Offered At Arlak Biotech For Franchise  
Arlak Biotech is offering nutraceuticals medicines for franchise all over India. We welcome nutraceuticals distributors, retailers, wholesalers, agents etc. the deals are genuine. We are offering flexible yet quality opportunities of pharma franchise. All the products being offered here are certified by Food and Drug Administration (FDA) and approval from DCGI. Here is the list of nutraceuticals medicines that we offer for the franchise:
Tablets/ Pills/ Pallets
Capsules/ softgels
Syrups
Oral suspensions
Powders
Sachets etc.
Arlak Biotech welcomes each and all who are looking for genuine yet quality deals of nutraceuticals PCD franchise and pharma franchise. We assure you guaranteed genuine deals and affordable rates. You will get to own a flourishing business with better opportunities of expansion with time.
Contact Information
Name: Arlak Biotech Pvt. Ltd.
Address: SCO 5-6, Wadhawa Nagar, Near Hotel Sunpark
Kalka Highway, Zirakpur, Punjab India – 140603
Write Us: info@arlakbiotech.com
Call us: +91-9888885355, 9803023099